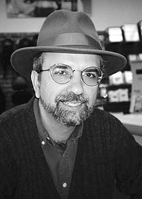 Miguel A. Roig-Francolí
Biographical Note
Miguel A. Roig-Francolí is a Spanish/American composer and music theorist, born in Ibiza (Spain) in 1953. Roig-Francolí studied composition in Madrid with Miguel A. Coria, and at Indiana University with Juan Orrego-Salas. He holds the Título Superior de Composición from the Royal Superior Conservatory of Music of Madrid, and an MM in composition and a Ph.D. in music theory from Indiana University. He is currently a Distinguished Teaching Professor of Music Theory and Composition at the University of Cincinnati College-Conservatory of Music, and has also been on the faculties at the Eastman School of Music, Northern Illinois University, and Ithaca College. Roig-Francolí's work as a music theorist, composer, musicologist, and pedagogue has been recognized internationally. His compositions have been widely performed in Spain, England, Germany, Mexico, Italy, Switzerland, Colombia, France, and the United States. His works have been praised by critics for their "rich, luminous, poetic, energetic expression," for their "great power of conviction and outstanding craft," and for a "communicative will, a coherence, and a formal balance both brilliant and full of beauty" (Enrique Franco, El País). Arturo Reverter has noted that Roig-Francolí is "gifted especially for the perfect finish of his works, always balanced and elegant, transparent in lines and in form."

Roig-Francolí has published over twenty articles in leading scholarly journals and collections of essays in the U.S.A., England, Italy, and Spain (including Music Theory Spectrum, Journal of Music Theory, Early Music, Revista de musicología, Journal of Musicological Research, College Music Symposium, Analisi: Rivista de teoria e pedagogia musicale, Indiana Theory Review, MLA Notes, The New Grove Dictionary of Music and Musicians, and the Diccionario de la música española e hispanoamericana), on topics ranging from sixteenth-century compositional theory and the music of Spanish Renaissance composers Antonio de Cabezón and Tomás Luis de Victoria to the music of György Ligeti. Roig-Francolí is the author of two college textbooks published by McGraw-Hill and widely used at universities in the U.S. and Canada, Harmony in Context (McGraw-Hill, 2003/2011), and Understanding Post-Tonal Music (McGraw-Hill, 2007). The recently issued Chinese translation of the latter is quickly becoming the standard post-tonal textbook at major Chinese conservatories. Among his many honors are first prize at the National Composition Competition of the Spanish Jeunesses Musicales (1981) and second prize at the UNESCO International Rostrum of Composers (Paris, 1982); the Medal of Honor from the Superior Conservatory of Music of the Balearic Islands (Spain, 2004); the University of Cincinnati's A.B. "Dolly" Cohen Award for Excellence in Teaching (2007), George Rieveschl Jr. Award for Creative and/or Scholarly Works (2009), and Distinguished Teaching Professor Award (2013); the Ramón Llull Prize from the Goverment of the Balearic Islands (2010); the Gold Medal of the Island of Ibiza (2014); and the 2016 American Prize in Composition (band/wind ensemble division).

Roig-Francolí's career as a composer began in the late 1970s while he was a student of Miguel Ángel Coria. His most famous work, Cinco Piezas para Orquesta (1980), commissioned by Spanish National Radio, was written in a postmodern, neotonal style. After winning the 1981 National Composition Competition of the Spanish Jeunesses Musicales, it was premiered by the Spanish Radio and Television Symphony Orchestra at Madrid's Teatro Real in 1982, and subsequently won second prize at the UNESCO International Rostrum of Composers (Paris, 1982). The work, described by musicologist Antoni Pizà as an "absolute pioneer" in introducing the postmodern aesthetic to Spanish music, has since been performed by the Orquesta Nacional de España (conducted by Jesús López Cobos), Orquestra Ciutat de Barcelona, Orquesta Sinfónica de Madrid, and Orquestra Simfònica de les Illes Balears, as well as by the CCM Philharmonia in Cincinnati. The score has formed the basis for two ballets: La Espera (choreographed by Ray Barra and performed by the Ballet Nacional del Teatro de la Zarzuela in 1987) and Five Elements (choreographed by Jiang Qi and performed by Dance China NY in 2010). After 1987, he concentrated primarily on his academic research and teaching but returned to composing in 2003 in what he has described as a personal reaction to the Iraq War: "Following the Iraq war and other events, I returned to composition as a way to engage with the world around me." The works from this second creative period often have spiritual themes and are based on sacred texts and the melodies of Gregorian chant. They include the choral works Dona eis requiem (In memory of the innocent victims of war and terror) (premiered by Orquestra Simfònica de les Illes Balears and Coral Cármina in 2006), Antiphon and Psalms for the Victims of Genocide (premiered by the Orquesta y Coro de la Comunidad de Madrid in 2008), and Missa pro pace (premiered by the Orquestra Simfònica i Cor Ciutat de Eivissa in 2008). One of Roig-Francolí's recent works, Songs of the Infinite, was commissioned by the Foundation for Iberian Music and premiered at Carnegie Hall on October 24, 2010. A monographic concert dedicated to Roig-Francolí's chamber music took place at Carnegie Hall on Nov. 17, 2013.